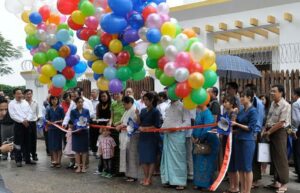 Myanmar Star Universe Company Limited is born to distribute ICT and computer accessories for Myanmar people. Its grand openings were held at 9:00 am on January 8, 2011, at the state-of-the-art showroom and office at Tamwe Township in Yangon.
Myanmar Star Universe, dubbed as Authorised IT Distributor, celebrates the opening ceremony with Daw War War Htun, president and executive committee members from Myanmar Computer Associations, entrepreneurs and celebrities, guests from embassies also from our beloved ICT retail partners as well as media personnel.
Representatives from Myanmar Star Universe Company Limited explain the need for affordable ICT equipment in Myanmar and distribute brands such as AOC monitor, STAR & East UPSes, HP DVD-RW, Golden Field Chassis. Star Universe will also provide the authorised service centre under Myanmar Star Universe Company Limited.
The team at Myanmar Star Universe appreciate the massive turnout at the openings. Finally, we promise to fulfil our commitment to distributing affordable and well-known ICT products on behalf of the Myanmar people.